ABOUT THE IMPROBABILITY OF LOVE
· Winner of the Bollinger Everyman Wodehouse Prize 2016
· Shortlisted for the Baileys Women's Prize for Fiction 2016
· Shortlisted for the Waverton Good Read Award 2016
· Waterstones Book of the Month April 2016
Annie McDee, thirty-one and recovering from the end of a long-term relationship who is working as a chef and searching for a birthday present for her unsuitable new lover in a neglected London second-hand shop. Hidden behind a rubber plant on top of a file cabinet, a grimy painting catches her eye. Leaving the store with the picture after spending her meager savings, Annie prepares an elaborate birthday dinner for two, only to be stood up.

The painting becomes hers, and as it turns out, Annie has stumbled across a lost masterpiece by one of the most important French painters of the eighteenth century. But who painted this masterpiece is not clear at first. Soon Annie finds herself pursued by interested parties who would do anything to possess her picture. For a gloomy exiled Russian oligarch, an avaricious Sheika, a desperate auctioneer, an unscrupulous dealer among others, the painting embodies their greatest hopes and fears. In her search for the painting¹s identity, Annie will unwittingly uncover some of the darkest secrets of European history‹but also the possibility of falling in love again.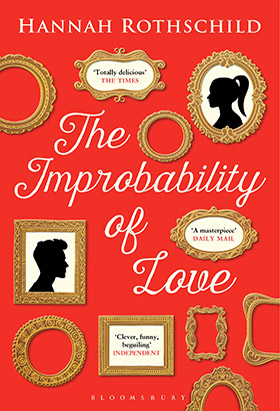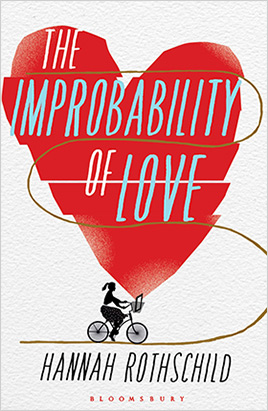 PREVIEWS
'I am head over heels in love with this book. Every page is a joy. It's funny, sad, profound. The writing dances. It has panache. It's beautifully structured. It wears its scholarship with a balletic lightness and grace that shadows the Rococo painting at its heart. Its many and varied characters are an exquisite joy. (Like Miss Bates in Emma, I don't know which out of the medley I'd pick, but perhaps it would be Sir Patrick, who manages to crush the hapless Earl with no more than a masterly 'crasphoislkenfijhnklend'?) Her range and emotional grasp is wonderful.
The art expert chat is always a triumph. What more can I say? It's my Book of the Year already.¹ BARBARA TRAPIDO
"THE IMPROBABILITY OF LOVE is a romp, a joy, and an inspired feast of clever delights. Reading this book is like a raid on a high-end pastry shop ‹ you marvel at the expertise and cunning of the creations, while never wanting the deliciousness to end." ­ ELIZABETH GILBERT
"Satirical, provocative, and exceedingly humorous, this novel mocks today's art world. A new twist: the leading painting speaks, gossiping about its previous owners. Rothschild delights us with glimpses of London life--as louche, chic, and freakish as early Evelyn Waugh. JOHN RICHARDSON
REVIEWS
'An inspired feast of clever delights'
Elizabeth Gilbert
'I am head over heels in love with this book'
Barbara Trapido
'Totally delicious'
The Times
'Clever, funny, beguiling'
Independent
'A masterpiece'
Daily Mail
'A page-turner'
Sunday Times
'A frolicsome art-world caper'
New York Times
ORDER
Please click here to order
DOWNLOAD
Download the press release here